BREAKING NEWS: thegoodpeople.se utökar sitt samarbete med FAAY Vianen B.V.
English summary: thegoodpeople.se becomes wholesaler and retailer of FAAY products for Scandinavia.
Vi är mycket glada och stolta över att tillkännage att thegoodpeople.se och FAAY Vianen B.V (FAAY) har utökat sitt samarbete för Skandinavien.
Vi har sedan en tid haft FAAY's produkter som förval vid montering och  installation av innerväggar till olika butiker och möbelutställningar. Från och med i sommar så är vi inte bara installatörer och montörer utan även distributörer och återförsäljare av FAAY's högkvalitativa produkter inom affärsområdet Skandinavien.
FAAY Vianen B.V är ett holländskt företag som tillverkar både innertak och innerväggar. FAAY har specialiserat sig på modulbaserade paneler som lämpar sig väl för såväl hemmamiljö som i det offentliga rummet. Deras mest kända kunder är IKEA och den holländska storbanken ABN AMRO.
De högkvalitativa brandsäkra innerväggarna är både ljud- och värmeisolerade och monteras dessutom väldigt snabbt på plats. Därför väljs de ofta till projekt där både tid och kvalitet är viktiga faktorer. Jämfört med traditionellt tillverkade innerväggar så kan man oftast göra samma arbete på halva tiden till samma eller lägre pris!  Och då är väggarna dessutom flyttbara om man får nya behov.
FAAY väggarna är mycket populära inom olika sektorer för nybyggnation eller renovering i hemmamiljö men inte minst på t.ex. företag, skolor, möbelutställningar, hotell och sjukhus.
Innerväggarna är standardutrustade med två kabelkanaler för elledningar och/eller datakablar. De består av paneler som är flyttbara som lätt kan monteras ner och användas igen. Detta gör att varje rum kan förvandlas om och om igen.
Utgångspunkten för alla FAAY produkter är enkelhet och kvalitet. Vi har inte funnit andra innerväggar som kan byggas så snabbt som FAAY, trots de mycket höga krav som vi och våra kunder ställer.
Fördelar med FAAY's innerväggar:
Hög kvalitet
Enkel och snabb montering/installation
Modulbaserat system som medför enkel logistikhantering och leverans
Brandsäkert
Flexibelt – kan monteras ner och användas igen
Ljudisolerat
Värmeisolerat
thegoodpeople.se använder endast erfarna och mycket kompetenta hantverkare för all installation och montering. Vi har gedigen erfarenhet från kompletta butiksuppbyggnader. Genom god planering och projektsmarta implementeringsmetoder kan vi göra det snabbare och bättre än de flesta.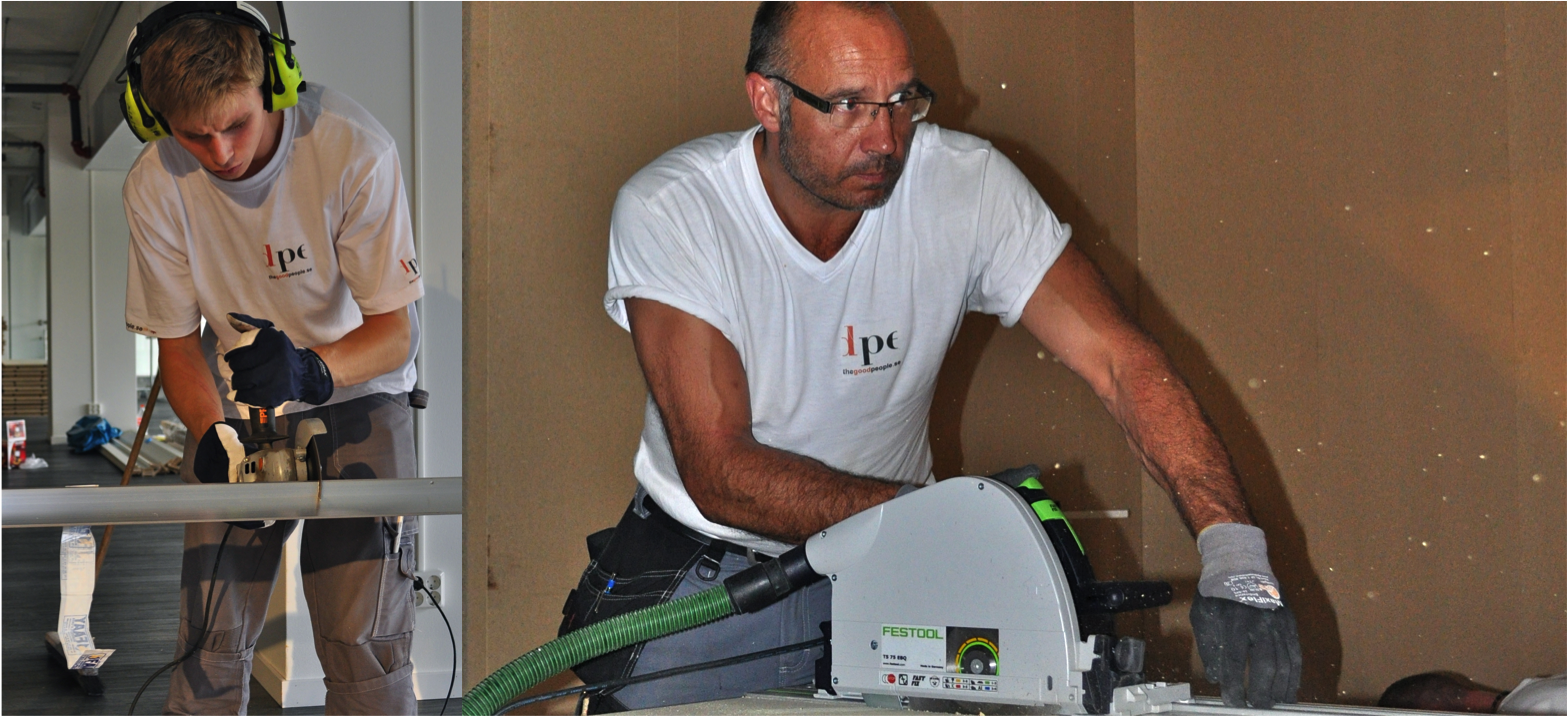 Vill du veta mer om det smarta innerväggssystemet från FAAY och om vår installations- och monteringsservice? Kontakta thegoodpeople.se