Systembolaget, Hötorgshallen, Stockholm
The good people were back in Stockholm and before one of many meetings we had lunch at Hötorgshallen in one of the central parts of Stockholm. This place is not a secret for any native Stockholmer as the new hall opened already 1953 replacing the old one from the 19th century, but we were quite surprised by the genuine and very continental atmosphere.
Food, food, food, and had we not been hungry at all we would have eaten anyway. The place was full of temptations for all senses. We had a fantastic shrimp and avocado sallad at Piccolino Bar while we mentally prepared ourselves for next meeting.
One interesting detail, at least if you live in Sweden is how well they have integrated the Swedish alcohol monopoly retailer, Systembolaget in to the rest of the environment.
It looks purpose built á la Paris, or in Brussels. Food and drinks, side by side, take away or eat-in.
In Sweden most people enjoy Systembolaget's self-service concept implemented in the 90's and later further developed  by Kollo and would refrain from shopping their alcohol in the old-fashion over-the-counter kind of way. Why? Well this time you can't blame IKEA :). It is because that was the old way of buying the Friday liquor. You had no other choice than to order you alcohol through a co-worker who would bring it to the counter.
An interesting detail is that nowadays Systembolaget is one of the most popular retailers when it comes to customer service,  co-worker knowledge about products and a good variety to choose from. Every year in different customer surveys they score high in these important categories. Run by the Swedish state, hooked up in a monopoly environment, challenged by moral dilemmas  they manage to satisfy their customers needs. Somebody is probably thinking, yes – because they have no competition – correct, but they are being compared to all kind of retailing. So what makes them successful could be implemented in any kind of retail environment.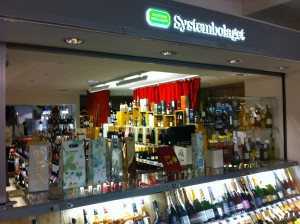 The Systembolaget at Hötorgshallen naturally blends in to the rest of the environment and makes the visitors dream away to – who knows – a future Sweden perhaps?